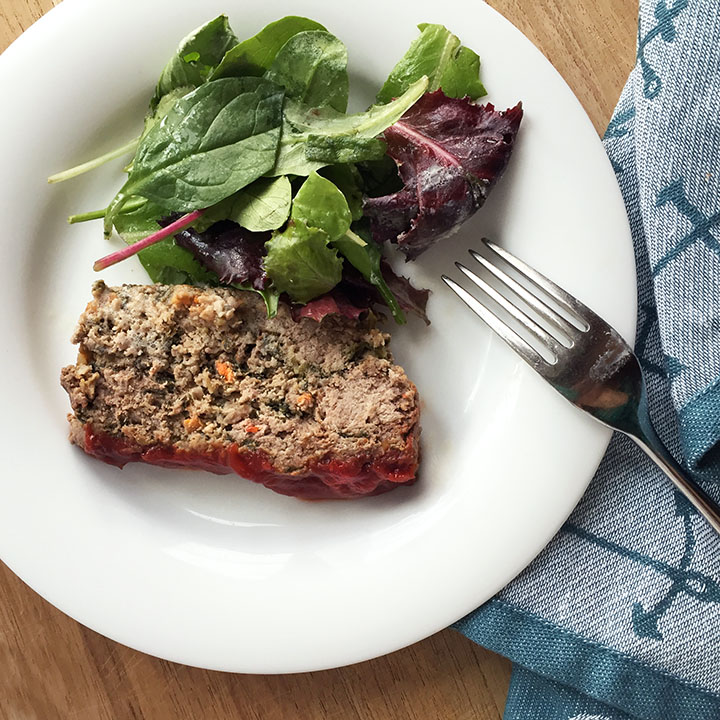 Some flavors are instant reminders of my childhood, sugar cereal, cottage cheese, bologna. All things I no longer eat, or would even attempt to eat. Something like meatloaf, minus the breadcrumbs, is totally tolerable. It brings me back to those annoying dinners you didn't want to eat and would sneak half of the food in my mouth and half into my napkin. Obviously I had much more distain for the all-mighty-loaf than I do now. I've embraced it by adding loads of vegetables, two kinds of meat, yet still drowning it in ketchup.

Meatloaf Vegged
Ingredients
1 T coconut oil
1 onion, halved
1 celery stalk, quartered
1 medium carrot, peeled & quartered
2½ cups fresh spinach
1 large egg, beaten
1¼ lb ground beef
1¼ lb ground turkey
3 T balsamic
1 teaspoon salt
½ teaspoon pepper
¼ ketchup (sugar free or homemade for whole30)
Instructions
Preheat the oven to 425°F and line a small baking sheet or bread pan with parchment paper
Heat oil in skillet
Place onion in a food processor and pulse until finely chopped. Transfer to the large, oiled skillet. Add carrot and celery to the food processor, and pulse until chopped. Add spinach and pulse a few times more. Add to the skillet.
Place the skillet over medium heat and cook, stirring. Continue cooking until liquid evaporates and vegetables begin to brown, about 5 minutes. Transfer to a large bowl.
Add egg, ground meat, balsamic, salt and black pepper to the bowl, and mix gently with your hands. Scrape mixture into the bread pan or onto the baking sheet and form into a loaf approximately 4 inches wide and 10 inches long. Spread top of loaf with ketchup. Bake until cooked through, about 40 minutes. Cool 5 minutes before slicing.