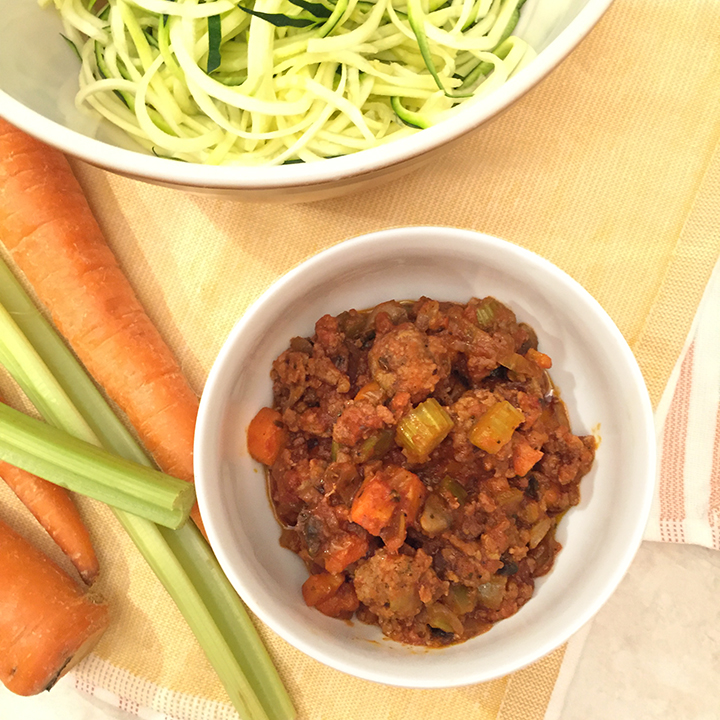 This recipe is not super veggie-sentric but I do try to add as many veggies to it to make it healthier. I also use my favorite jarred organic mushroom spaghetti sauce from Trader Joes which doesn't have any cheese or soy added. What's even more awesome is this recipe can be done in under 30 minutes. It's my quick go to when I don't have a plan which usually happens about once a week. It goes great with my Monster Noodles.

Bolognese Sauce
Ingredients
1 lb of ground meat, I use beef or pork sausage
2 Tablespoons tomato paste
½ jar of tomato sauce or marinara
1 medium onion, diced
2 medium carrots, diced
1 celery stalk, diced
1 cup button mushroom, chopped
2 bay leaves
1 Tablespoon fresh oregano or basil
½ cup dry red wine
Instructions
Place meat in a large skillet to brown over medium heat, about 10 minutes
While meat is cooking, prep and cut veggies
Add onion, carrots, celery and bay leaves and cook for another 5 minutes
Add mushrooms and tomato paste and cook for another 5
Add tomato sauce, wine and herbs and let simmer and cook down the liquid for 5-10 minutes or longer if preferred.