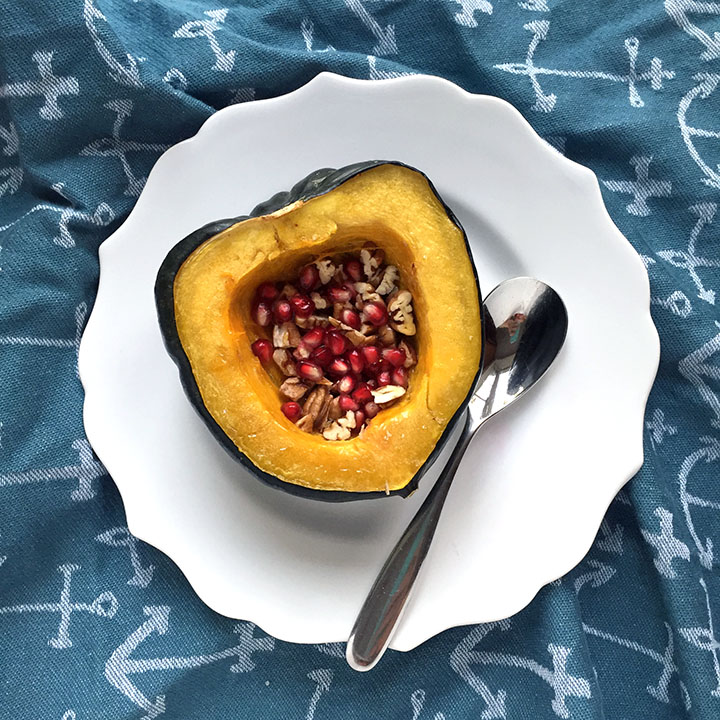 Fall fare can be so lovely but I think I over due it every year and by Thanksgiving, I'm over it. I watched this Whine About It about Fall—ROFL "Pumpkin is like putting cinnamon on a sandcastle." Matt Bellassai is pretty hilarious and his points are valid but I still embrace it. I won't be drinking rum and cider—–yet, but I'm using a lot of this autumnal vegetable, acorn squash. It's so warming on my belly. I love it and so do my girls.
If I could eat cheese, I'd top this with some pungent blue cheese or gorgonzola. If only..
Here's a quick tip. Partially cook the squash in the microwave before roasting it in the oven to save some time. With this recipe, it saves about a half hour of cook time.

Roasted Acorn Squash
Ingredients
1 acorn squash, cut length-wise and seeds removed
1 T of pecans, chopped
1 T of pomegranate seeds
coconut oil
maple syrup
Instructions
Preheat the oven to 400°F
Rub each half of the squash with coconut oil
Place the squash on a microwave safe plate, face up and cook for 10 minutes
Transfer the hot squash to an aluminum pan, face up
Add more coconut oil and the pecans to each half
Roast in the oven for an additional 10-15 minutes
Dress with pomegranate seeds
Drizzle with maple syrup