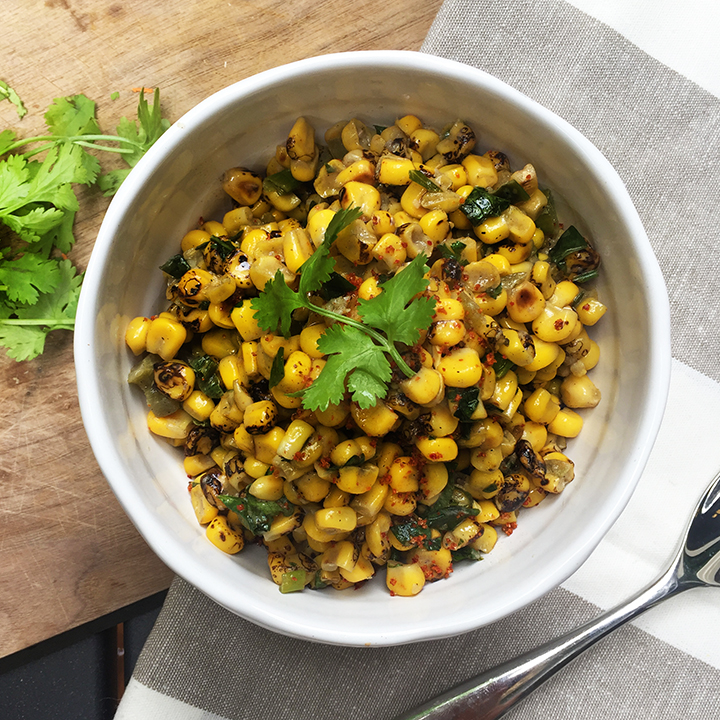 Well it's about time. Thank you to everyone who encouraged me to keep posting. I was feeling a bit defeated and focused more attention on community driven projects. I'm still doing those things but with summer, I've got a teeny bit more time to do my stuff. Think tv shows, sprinklers and some mandatory quiet time so I can do what I need to do.
This recipe comes from my favorite cookbook, Food Lab with some alterations to make it not only dairy-free but with short cuts. I first had Mexican Street Corn aka Elote in Sedona, Arizone this spring at a wonderful restaurant of the same name. I think I ate an entire pound of it. It's a fairly simple dish and according to my family, the cheese wasn't necessary. Hope you like it as much as I do.

Mexican Corn
Ingredients
1 bag of trader joes, frozen roasted sweet corn (about 3 cups)
2 tablespoons of oil, i used avocado
2 tablespoons of mayonnaise
½ cup of green onions, thinly sliced
½ cup of cilantro, finely chopped
1 tablespoon of fresh lime juice
2 garlic cloves, minced or grated
2 tablespoons of trader joes diced jarred sweet and spicy jalapenos
salt
chili powder
Instructions
Heat oil in a large skillet over medium heat. Add the frozen corn and spread evenly. Let simmer for a few minutes before stirring. Cook for another two minutes or until evenly heated through.
Mix the mayo, green onions, cilantro, lime juice, garlic and jalapeno together with the cooked corn. Add salt and chili powder to taste. Serve room temperature or hot.