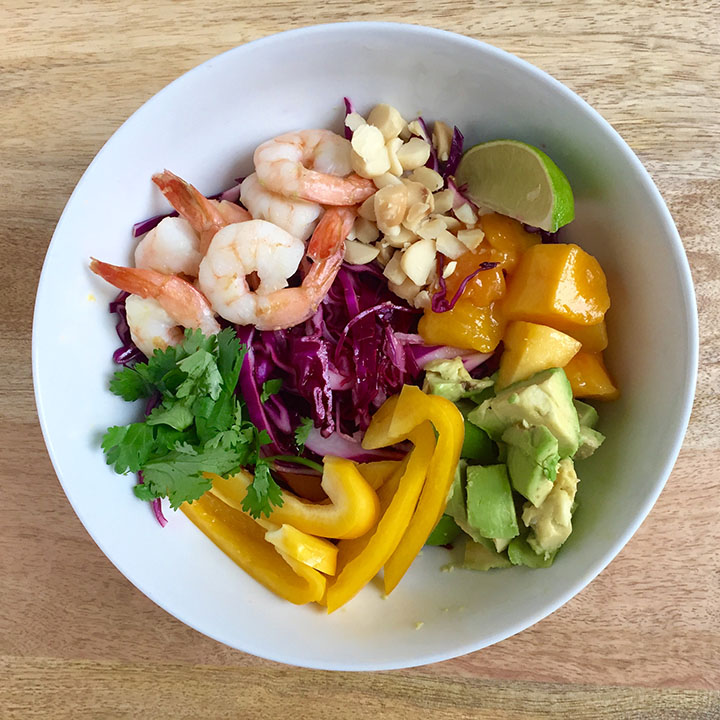 Sometimes you just want to eat like you're on an island somewhere. At least us Minnesotans do. As much as I don't like to admit it, food gives me so much comfort. Probably something I need to deal with down the road but for now, I'm going to just enjoy these delicious flavors and pretend it's not going to be cold soon. Denial? Maybe but I like to think of it as manifestation?
The key to this salad is fresh ingredients. Except for the Trader Joes frozen mango. That is purely for convenience and because I'm terrible at peeling and cutting up slippery mangos. I've also used pineapple in place of mango in the past.

Carribean Cabbage Salad
Ingredients
Cooked Shrimp (6-12)
¼ medium red cabbage, thinly sliced
Juice one lime and grated zest
One avocado, diced
¼ cup diced mango (I love Trader Joes frozen mango)
half a yellow pepper, julienned
a handful of fresh cilantro
¼ cup macadamia nuts, roughly chopped
2 tablespoons red onion, finely diced
1 tablespoon white wine vinegar
1 tablespoon full fat coconut milk
Instructions
Cook shrimp in a sauté pan with oil of your choice or grill it.
Add cabbage and onion to bowl and dress with lime juice. While that's marinating, cut up remaining vegetables, fruit and nuts.
Add to the bowl.
Whisk white wine vinegar, coconut milk and zest. Dress the salad.
Salt and pepper and extra lime juice to your liking.