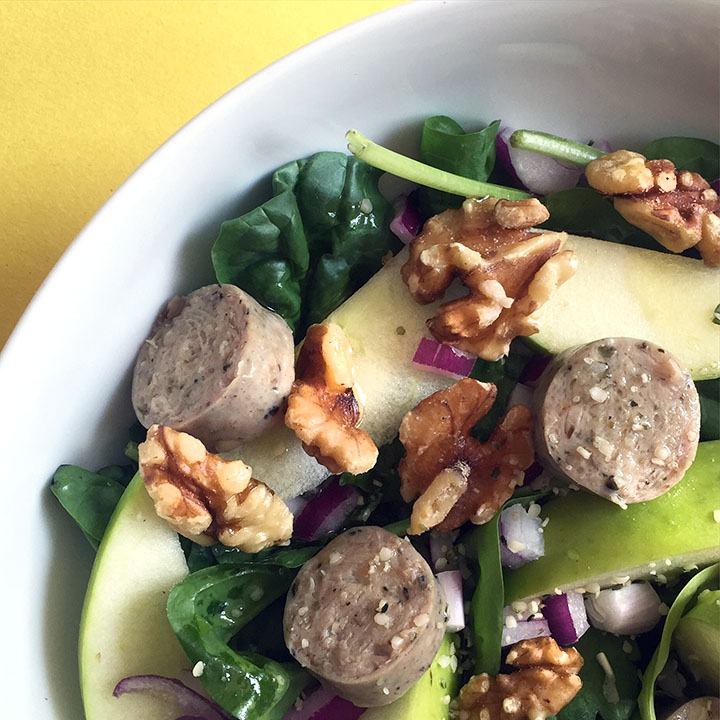 I'm usually the person that brings a salad to pot luck functions because so many salads have cheese on them which means I'm S.O.L. There's a basic equation when thinking about a salad I heard years ago that I try to follow.
1) Start with your base green or filler
2) Add some protein
3) Add something salty or crunchy
4) Finish with something sweet or tangy
This delicious tangy salad follows that equation and it's super easy to put together. Aidell's Chicken Sausage makes it extra easy because it's already cooked. All you have to do is heat it up.

Chicken Sausage Salad
Ingredients
2 chicken apple sausages
2 cups spinach
2 granny smith apples, diced
¼ cup red onion, diced
½ cup walnut pieces
1 T hemp seeds
1 T olive oil
½ T apple cider vinegar
Instructions
Cook sausages per package instructions, I prefer to pan fry or grill.
Slice the sausages.
Toss with the spinach, apples, onion and walnuts.
Dress with olive oil and vinegar.
Garnish with hemp seeds.